09 November 2020
|
Treat yourself, you deserve it
We're anticipating a ton of great deals over the holiday season, but with Black Friday starting early, it's worth taking a look for your new favourite game! Or, well, buying Christmas presents - but treating yourself is much more fun.
Amazon has started early with their Black Friday and Prime deals, which means there's a number of great games to pick up at a low price. Of course, they're not the only ones! Warlord Games are also in on what they've called Black Friday Month, Corvus Belli is previewing their deals, and don't forget to check out your FLGS, and our own game store online for some great deals, but here's a few virtual ones available over at Amazon.
Bear in mind though, some of these deals are time or quantity limited, so make sure to check your prices before purchase!
UPDATED: 27th November 2020 (Actual Black Friday) to include
There are repeat deals here for Villainous, P is for Pizza, Funkoverse, and the X-Wing Dice Pack.
Rated 'best game to play with your gran' in our Virtual Tabletop Gaming Live 2020 awards, this is perfect to teach anyone how to play pokemon, with some familiar pokemon to play with!
£17.49 down from £21.99
Content continues after advertisements
Another Big Potato Game but a Junior version of Colour Brain, perfect for Christmas!
£7.96 down from £10
UPDATED: 24th November 2020 to include Song of Ice and Fire Night Guardians Starter set
47 miniatures including Jon Snow, Spectrum, Jeor Mormont, Bowen Marsh - "A Song of Ice & Fire brings the epic battles, political intrigues and the most famous characters from the acclaimed George R. R. Martin novel saga. Using stunning pre-assembled miniatures, take over the armies and heroes of the great West Houses and battle to conquer the Game of Thrones through various unique game modes."
£54.20 down from £58.11
UPDATED: 20th November 2020 to add Funkoverse, More Big Potato Games, a Daemon Prince, Chaos Warriors, and Lord of the Ring Miniatures
There are a few Funko sales on, but this is the strategy game! With Hermione, Harry, Voldemort, and Bellatrix included, it's a fun game with great characters to boot.
£19.99, down from £45.28!
Big Potato Games are back with the deals, some of these we've seen before but went away and came back!
Chameleon: £39.99 down to £19.99
Colour Brain: £24.99 down to £19.41
This is a multi-part plastic kit for you to assemble one Daemon Prince, from Warhammer: Age of Sigmar. It may not be a great discount, but it could be a great gift!
£26.37 from £29.99
If the above Daemon Prince wasn't enough, lets add in some Chaos Warriors!
£28.76 plus £3.14 delivery
Miniatures? Lord of the Rings? Yes please
£30.59 at full price, £24 on sale (plus £3.21 delivery)
UPDATED: 19th November 2020 to add the Talisman Expansion
Talisman can be tricky to get hold of, but there's an expansion here to solve that – and even better, it's on sale!
£32.40, usually £38.13
UPDATED: 17 November 2020 to add Star Wars: X-Wing Dice Pack
Who doesn't need more dice? An attitude that leads to an impressive collection to be sure, but if you're or your gift recipient is a Star Wars X-Wing player, this could be a great little gift for them.
£8.39 from £10.30
UPDATED: 16 November 2020 to add Trash Pandas and Dobble Waterproof
Ravenous Racoons are hungry critters in this quick and fun game! We reviewed the full game, which you can take a look at here, but if you like what you see, it's in the Amazon sale.
£9.27 down from £12.89
Okay, taking a long holiday near a pool with the family where this waterproof version would be perfect, admittedly seems a long way off. But if you're looking to pick up a copy of the super-popular matching game Dobble, this is a great version to buy that's perfect to take on holiday.
£17.34 down from £20.49
UPDATED: 13 November 2020 to include Pathfinder Adventure Card Game Magus Card Deck
Featuring three brand new magus characters, this Magus Class Deck contains 109 cards
This is now £10.46 instead of £15.18
Another adventure from D&D, this time it's Out of the Abyss! This time you're going to head into the Underdark, where you'll need to stop the madness before it consumes you...
This was £30.46 rather than £38.99
This marks a great Christmas present, or addition to your own collection, containing dice, maps, character cards, and a gorgeously designed box for them to live in (and for dice to roll in). We took a look at this on Tiktok, and can say it'd be a great gift for a D&D fan!
This was £22.59, and is now £19.34
Dobble is a classic game for getting the family involved, and this Harry Potter version adds an extra intrigue- especially with how people will describe the images they're not familiar with! It's a small discount, but a discount nonetheless, and small enough to be a great stocking filler.
Harry Potter Dobble is now £19.95, down from £21.09
UPDATED: 12 November 2020 to include Disney Villainous Perfectly Wretched and Wicked to the Core, plus P is for Pizza, 20 Second Showdown, Love Letter, 7 Wonders Duel Pantheon (Expansion), Unlock! Exotic Adventures, Century: Eastern Wonders, and Seasons.
Disney Villainous has become a staple in many board game collections, and the favourites keep on coming. We reviewed this one specifically here, but it's your chance to play as Cruella De Vil, Mother Gothel, or Pete!
This was £24.27 and is now £18.99
If the above wasn't enough Villainous for you, there's also the same deal for Wicked to the Core, another standalone or expansion version of Disney Villainous with three different Villains to chose from - Hades, Dr Facilier, and the Evil Queen
This was £24.99 and is now £18.99
One of the newest games from Big Potato, this is a lightning deal so be sure to act fast. This is a word game where you'll be trying to shout a word that links a letter on one card to another, with the goal of collecting nine pizza cards,
This is currently £10.39, down from £12.99
We said in our review of 20 Second Showdown, that whilst it may not be suitable for young family play, it may be perfect for students and more, making this a pretty easy gift to give for those difficult to shop for.
This is £14.44, down from £24.99
This is a perfect secret Santa gift OR a way to fill your shelves OR guilt-free, or just a great chance to pick up a fun and popular game at a lower cost, OR all of the above...
This is £6.93, down from £9.12
Add to the existing fun of 7 Wonders Duel with the Pantheon expansion, adding a divine element to the game!
This is down from £19.00 to £12.44
However, it's also worth noting that the main game, is on general (non Black Friday related) sale too - it's down to £19.99 from £26.61.
Escape-rooms-in-a-box, Unlock make great games to play through with friends with that added sense of urgency, and Exotic Adventures does so featuring a dinosaur (and others)
This is £15.18, down from £26.99
If you like Century, Eastern Wonders should be an easy purchase, as a standalone or combined with Century Spice Road. We reviewed and enjoyed it, so don't miss your chance to pick it up!
This is £20.51, down from £33.99
We said of Seasons that it was "a tough game to master but is well worth the effort", and now it's on sale too! You'll be taking your place as a wizard in this game for 2-4 players.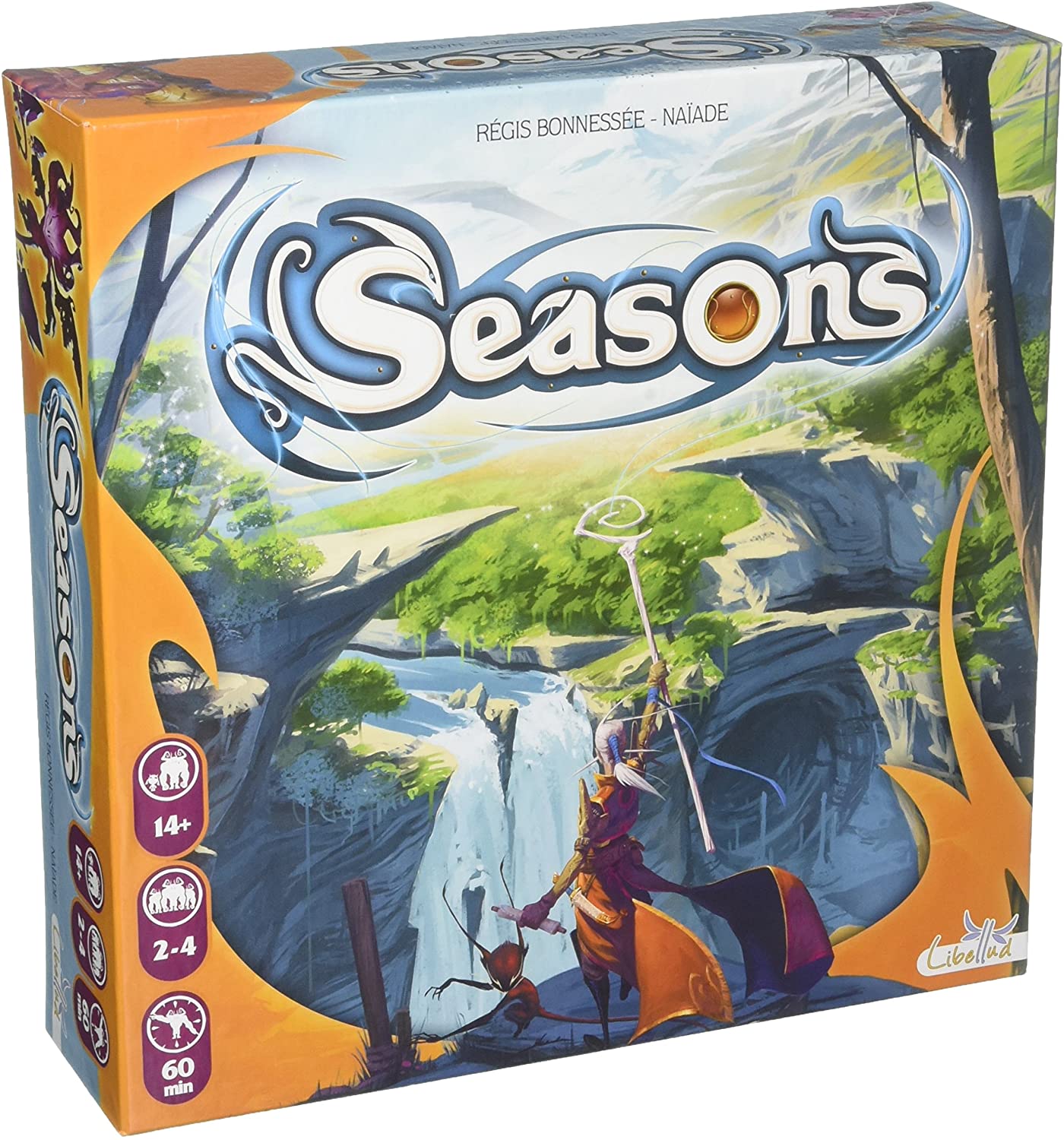 This is £22.25, down from £38.99
UPDATED: 11 November 2020 to include Exploding Kittens Games and Sketchy Tales Disney Edition
Exploding Kittens Games
We may have seen a lot of Big Potato Games in the last few days, it seems now is the turn of the team behind Exploding Kittens! Once the highest funded game on Kickstarter, there's a number of their games on sale, including Barking Kittens, an expansion we rated worth playing - plus, we opened it up on TikTok and had a little fun with it too!
Exploding Kittens is now £16.85 instead of £19.99
Barking Kittens is now £10.14 instead of £14.99
Throw Throw Burrito is £18.74 instead of £24.77
Bears vs Babies is now £17.89 instead of £24.99
On a Scale of One to T-Rex is now £14.99 instead of £19.99
Poetry for Neanderthals is now £14.99 instead of £19.99
This is a lightning deal, but a great way to play Sketchy Tales with the family in time for Christmas! You'll receive a prompt and have to draw it. Pass it on to the next player who will have to write down their guess of what it is, and then their guess is passed onto the next player to draw and so on - a great way to get hilarious results and a good laugh.
Sketchy Tales is £16 rather than £20
UPDATED: 10th November 2020 to include Mr Lister's Quiz Shootout Trivia Game, Hanabi Pocket, Magic the Gathering: Unsanctioned, and Vallejo paints.
It's a good time to be a Big Potato Games fan, as there are a few on sale options for you! This is a lightning deal and a lightning-fast game - you're going to have to be fast to list the answers to the trivia questions provided, using brains instead of pistols in this shootout.
Currently £8 instead of £14.99
The classic Spiel Des Jahres winning game in a pocket-sized version - what's not to enjoy? This is a deck of cards, but you won't get to see your own hand, and you'll rely on deduction to play your cards correctly.
This is currently £9.67, where full price is £15.99
This is the "best unauthorised fight club in the Magic Multiverse", where you'll pick two of thirty decks and shuffle them into a super deck to try to beat your opponent, having done the same
This was £44.95, and is currently £37.39
Wanted to get started painting your miniatures but never quite got around to it? Need to refill your collection? Here's a pack of 16x 17ml paints for you to do so with
This was £37.99 and is currently reduced to £28.01
First up is Don't Get Got, the party game from Big Potato Games that offers you secret missions to complete. In fact, there's a Shut Up and Sit Down edition available on Kickstarter at the moment, but this is the core game for all of your sneaky mission related needs. We can't help but think this would be great at a Christmas get together, COVID-19 dependant of course
.
This is £15.99, rather than £19.99.
Another game from Big Potato Games in the Chameleon, a social deduction game where you'll race to catch the Chameleon. We described this as a mixture of Spyfall and Codenames in our review of it.
The game is £19.99, down from £34.99
This game from Steamforged Games is a miniatures game of ascendant champions, battling a broken world (whilst looking pretty cool doing it!). Steamforged have been brought up a lot recently with their new Bardsung Kickstarter due to launch, but this offers you something a little different!
This is £27.08, down from £33.96
Funko are best known for their Pop Figures, cute characters from all forms of pop culture in a small figure with an oversized heads. In their compatible funkoverse, the figures are smaller, but now you've a game to play, and the combination gives us the strategy board game on sale here.
The game is currently £16.99, down from £25.58
This is everything a new player would need to start their D&D game, with the Players Handbook, Monster Manuel, Dungeon Masters Guide, a DM screen, and a nice case to keep it in. Perfect for someone thinking about beginning, or as a gift to bring someone into the D&D world.
This is currently £67.49, down from £89.99
In a similar vein, an D&D adventure is also on sale, in Storm Kings Thunder, where eyou'll stand with or against giants in this adventure.
This is currently £29.29, down from £41.99
That's all for now, but we'll add any new ones that we come across. If none of those takes your fancy, do check out our game store for some great deals, and feel free to pick up a magazine subscription too- available as gift options!
---
Sometimes we may include links to online retailers, from which we might receive a commission if you make a purchase. Affiliate links do not influence editorial coverage and will only be used when covering relevant products
Content continues after advertisement