13 May 2022
|
We find out a little more about David Thompson's post-apocalyptic 2016 debut, Armageddon
BACKGROUND
"Outside of gaming, my day job is working for the US Department of Defence as an intelligence analyst. I started gaming early on, mostly as an RPG guy. Then in the mid-2000s, I decided to start working on my own board game, taking inspiration from things like Blood Bowl and Mage Knight – the Clix game. That game became For What Remains [eventually published in 2020]. In 2014 I moved to Cambridge, which has an unbelievable playtest and design community, and within a few weeks I went to my first meetup, where I met Trevor Benjamin [co-designer of Undaunted] and Chris Marling, who proposed we collaborate on something. The game that ultimately became Armageddon was Chris' idea."
COMPONENTS
"Thematically, the game didn't change a lot from Chris' original concept of a Euro-style game with a post-apocalyptic feel, but the original name was From the Ground Up, and it involved stacking tiles, which changed over time. We drew inspiration from a lot of different things, but it wasn't like we were saying, "This is a Mad Max game, or The Road, or The Book of Eli, or any specific thing. We wanted it to have a more realistic feel."
OBJECTIVE
"We wanted the game to evoke a feeling of desperation and to have a serious bite to it, which isn't all that common for Eurogames. Nothing about the design was sacred to us in terms of mechanics. If the core auction system or the bit of worker placement had not been working, we would have just changed it. The only thing we felt passionately about that we weren't going to change, was the sense of desperately defending your home."
SETUP
"One of the biggest challenges making it was getting it physically in front of people to playtest it. That wouldn't be an issue today – pretty much everything I do is on Tabletop Simulator, and I iterate digitally on that, too. But I fondly remember going to Chris' house in St. Ives, sitting at his table and trying to work through problems together. It was the first time I ever experienced doing a co-design, and I hugely valued his experience."
HOW TO PLAY
Content continues after advertisements
"Armageddon has a post-apocalyptic setting in which you are the leader of a town and you have to bring it to prosperity while vying against the other players for limited resources, and facing marauders. It's all about what you prioritise most for your settlement – recruiting people, hiring engineers to build things, sending people out to scavenge for loot – and that prioritisation is represented through the game's core auction system."
END OF THE GAME
"When we took it to Spiele 2015, we pitched it to Queen Games and they asked if they could keep it. But it was the only prototype we had, and we had other meetings scheduled, so we had to play a full game with them right there. After that, they signed it on the spot, which is super uncommon. However, they did some development work on it that Chris and I weren't actively involved in, and it caused problems with one part of the game – the scavenging element – which were identified as soon as the game came out. If I have one regret about Armageddon, it's that we should have interjected, or pushed harder. It's a game I don't think I ever would have designed had it not been for Chris, and it's not the type of game I think I necessarily am skilful at designing. But I'm really happy I got to have the experience."
STRATEGY TIPS
"Don't do it alone. That doesn't mean you have to have a co-designer, but do find a community that can help you. Though be careful not to turn your game group into your playtest group. If possible, seek out designers' playtest groups, with people who can mentor you. Just don't go it alone because that's madness."
Interview by Dan Jolin
Looking for more?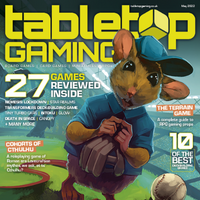 This review came from Tabletop Gaming Magazine, which is home to all of the latest and greatest tabletop goodness. Whether you're a board gamer, card gamer, wargamer, RPG player or all of the above, find your copy here.
Get your magazine here
Read More...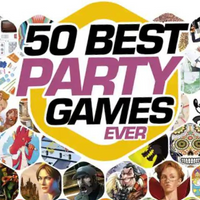 If you like party games, this is the one to read – a feature straight from our special issue of Tabletop Gaming Magazine giving you the top 50 party games ever. You'll have to let us know which one would be your number one!
Grab your party hat!
Join us in person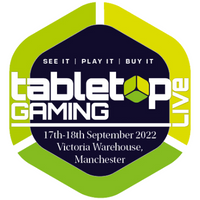 We can't wait for Tabletop Gaming Live 2022! An epic weekend in Manchester full of board games, card games, roleplaying games, wargames and more, with amazing exhibitors, great games, and an opportunity to game together in person.
See you there!
Treat Yourself!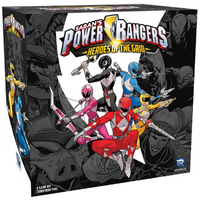 Have you visited our game store? We have everything from mystery boxes, to games and accessories – including the above Power Rangers: Heroes of the Grid, with a great discount! Head over to find your new favourite game.
Visit the Game Store