26 July 2022
|
Sometimes you just want to get out.
And then, sometimes, you want to stay in but try to get out. Ideal for gatherings of more casual gamers, the escape room genre of games bridges the gap between a big puzzle and a party. Here's ten of our favourite escape room games for you to play at home.
Words by Christopher John Eggett
1. EXIT: THE GAME
The classic escape room game in a small box. The puzzles can range from pretty simple right up to brain-bendingly tricky. Set your group's expectations based on the rating on the side of the box. There's usually a destructive element to the games which is either exhilaratingly irreverent, or panic inducing, depending on what people think a games night is about. After the first cut, you get used to it, after all, you sometimes won't be able to progress without a little destruction. Particularly good entries are the Orient Express, and Abandoned Cabin outings – but for a more sedate pace, go for the puzzle versions of the game. The upcoming Lord of the Rings edition is also set to provide some new surprises in a robust system.
---
Content continues after advertisements
2. UNLOCK!
A favourite around these parts – Timeless Adventures is our go-to recommendation – but they've all got a little bit of the Unlock! magic about them. With three scenarios in the box players will be coming together to work out a mystery – sometimes that's getting out of somewhere, sometimes it's working out who stole the clown's nose at the circus. Unlock! probably widens the scope of what the game will ask you to do in terms of rethinking your ideas into a broader point of view – beyond the chopping up and box-hunting of the Exit titles. Often funny, they're a great cross-generational game that can work for everyone around the table. If you're happy for people to be using an app during your gaming night, this one is a winner.
Read the full Escape Adventures review here
3. ESCAPE ROOM THE GAME
For those looking for the most amount of plastic prop for their buck, then look no further. Escape Room: The Game is a classic entry level escape room experience. Inside each box is a large, somewhat panic-inducing timer and decoder. This is designed so you can enter a certain set of keys to unlock the mystery and escape, deciding which ones are the right ones is the problem. Using a set of paper and cardboard props a group can work on different elements at the same time, making this a great entry for bigger groups. Oh, and every time you get a key wrong you not only lose time – but you get to be buzzed by the big plastic box. It's the closest you can get to an actual escape room 'party' experience without locking guests in the shed. The second box of the series is our favourite.
Can you escape? Pick up a copy here
Read the full review of its sequel here
4. DECKSCAPE
An unassuming and budget priced box of cards makes this one of the better cheap and cheerful escape room series to have a flutter on. Get out the little deck of cards and work together to make your way out of whatever situation you're in. Escape From Alcatraz is probably the one that fits the bill best, but each adventure sees new mechanics thrown into the mix such as choose your own path elements as well as the usual lateral thinking puzzles. Because of the deck of cards format, players are likely going to have to be around the same table space, so ideally one for smaller groups (or solo).
5. SCOOBY DOO: ESCAPE THE HAUNTED MANSION
Using the coded chronicles system – which makes this a bit like breaking your way out of a safe. As with any game featuring the Scooby Gang, this is a great game for collaboration. Each character has their own ability they'll be able to use in the various rooms they're investigating. Working out the right combination of people, object and locations to get through the envelopes and into the next part of the case is key to winning the game. Whether you've done it or not will be down to the number of Scooby Snacks you've got left at the end of the game (i.e. not stress eaten). If you're a fan of the legacy game 'open the envelope' style of experience, then there's plenty to Scooby-Dooby-Doo in here.
6. CRIME ZOOM
Another tiny boxed entry that leans more on 'mystery' that escape, but opens up a new twist on the format. Here players are dropped into a scene, set up by laying out a variety of different cards to form a single image. Exploring each card means flipping it, and taking another from the deck to progress your investigation. Here you're trying to find the culprit from those you uncover from the clues at the crime scene. A nice, short, entry for those who want to get a game in without dedicating half a day to working out which key goes where.
7. ESCAPE THE ROOM: MYSTERY AT THE STARGAZER'S MANOR
One of the originals – a simple place to start for those who have no idea what's going to be in a box like this, let alone how to get out of one. Here, using a classic decoder wheel, players work through a series of envelopes to discover the truth at the heart of this 1869 mystery. Strange things are happening at the manor of a famous astronomer, who has gone missing since the death of his wife. Odd noises and unpleasant smells set the scene for something extremely unusual happening up on the hill. A great place to kick off your escape room career.
8. ESCAPE TALES: LOW MEMORY
On the thinky, more-of-a-board-game end of things is the Escape Tales series. With what looks suspiciously like a board and tokens, players will be working through puzzles together to unpick the fractured memories of Elizabeth, the game's protagonist. This isn't a family game and can explore some dark themes (check the content warnings before breaking it out) but with that offers some interesting takes on what is often seen as a very light genre. The game also boasts multiple plots and a generous 'no time limit' on the story. Also, the game is made by Board & Dice, so you know you're in safe hands.
9. ECHOES
A new entry into the scene of escape room meets mystery games – and another novel approach. This time we're attempting to find our way through a story using only the audio clues present. While a little easy – you're simply putting the app-created sound vignettes in the right order after all – it does have a certain charm, if you're interested in exploring how you and your friends hear the world a little bit differently. There's three cases to explore at the moment, with mixed results – but at a price point where it's worth trying out for a quick burst of audio exploration.
Read the full review of Echoes: The Microchip here
10. AMELIA'S SECRET
While we've only had a demo of this mystery-meet-haunted-house game, we already love the spooky atmosphere it gives players. The game uses augmented reality (i.e. pointing an iPad at stuff) to put weird happenings in your own home. Using large trigger cards that you lay out around the room you're playing in, you use the tablet of your choice as a portal into a much darker world. Players work as a team to uncover the clues that are now, seemingly, present in their own home, and attempt to escape the dark mansion. With a mix of talking to spirits through Ouija boards and interacting with a host of ghoulish object – plus a great soundtrack – this could be your immersive horror get-me-out-of-here game of choice.
Buy tickets to Tabletop Gaming Live to see this when it launches!
Looking for more?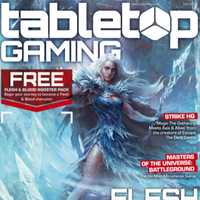 This review came from Tabletop Gaming Magazine, which is home to all of the latest and greatest tabletop goodness. Whether you're a board gamer, card gamer, wargamer, RPG player or all of the above, find your copy here.
Get your magazine here
Read More...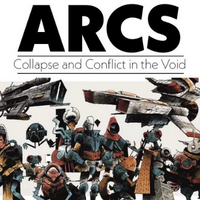 If you want to read more about one of the most hotly anticipated games of the year, check out our interview with Cole Wehrle on ARCS! A new game from the designer of Root and Oath, and we've got all you need to know.
To infinity and beyond
Join us in person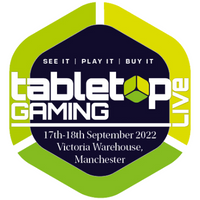 We can't wait for Tabletop Gaming Live 2022! An epic weekend in Manchester full of board games, card games, roleplaying games, wargames and more, with amazing exhibitors, great games, and an opportunity to game together in person.
See you there!
Treat Yourself!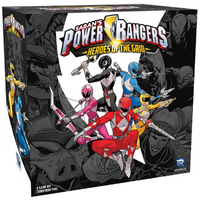 Have you visited our game store? We have everything from mystery boxes, to games and accessories – including the above Power Rangers: Heroes of the Grid, with a great discount! Head over to find your new favourite game.
Visit the Game Store
Sometimes we may include links to online retailers, from which we might receive a commission if you make a purchase. Affiliate links do not influence editorial coverage and will only be used when covering relevant products