28 June 2022
|
Meeples' Corner is a board and card game shop, offering everything from the hard to get imports to family friendly games. We spoke to Christoph about this South Devon store.

Content continues after advertisements
Can you tell us a little bit about how the store first got started?
Meeples' Corner started in 2014 as an online shop. We offered order collection at my office, so we slowly got in touch with local gamers and started a regular Game Night at one of the local pubs. We also organised a game day twice a year, so we knew that there was a local gaming community and that made the decision to move into the High Street shop in July 2019 much easier. There is quite a good board game community in Devon with lots of active groups and some smaller cons during the year. Pokémon is also very popular, especially with the school kids.
What do you think makes your store unique?
I used to run a board game shop in Germany and still have strong connections to suppliers and publishers in Germany. Also, being a German native speaker makes it easier for me to stay up-to-date with what is happening gaming-wise in the home of the Eurogame, so we can always offer games at Meeples' Corner that have gone
unnoticed in the UK yet, or might be harder to get hold of.
What titles have you found most popular recently?
Some of last year's Essen releases have been very popular. Ark Nova, Boonlake and Bitoku have done amazingly well for us as has the Lost Ruins of Arnak expansion Expedition Leaders. For families we can recommend the Micro Macro games, they are good fun and perfect for everyone who doesn't have any board game experience yet.
What titles are your personal favourites?
I used to play a lot of the heavy-weight games that take forever to play like the Game of Thrones Board Game. But in the last few years, I have focused more on easy-to-learn (and teach) games with playing times around 90 minutes. Luckily there are quite a lot of really good games in this category, so we played a lot of Tiny Towns, 7 Wonders: Architects, King of 12 and Honey Buzz.
What events do you run for the local gaming scene?
We have a weekly game night at the shop. We also organise a bigger game day twice a year at our local town hall to get everyone together for a whole day.
What's been your favourite part of running a FLGS?
Talking to lots of people about board games, it's my favourite hobby. And also introducing modern board games and the fun they bring to people who haven't even known yet that this kind of games exist.
How has it been through COVID-19?
The first lockdown was very tough. We have moved into our shop only a few months before and it just started to get traction when we had to shut down everything and rely on the online business. But we adapted and kept everything going as good as possible. The second year of Covid was a lot easier, but it is still hard to compare where we were before Covid, especially now with all the delays and stock shortages caused by production delays and massive hikes in shipping costs.
Where can I find it?
143 High Street,
Crediton, Devon,
EX17 3DX
Looking for more?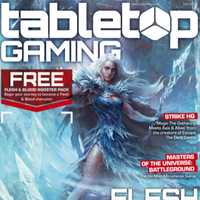 This review came from Tabletop Gaming Magazine, which is home to all of the latest and greatest tabletop goodness. Whether you're a board gamer, card gamer, wargamer, RPG player or all of the above, find your copy here.
Get your magazine here
Read More...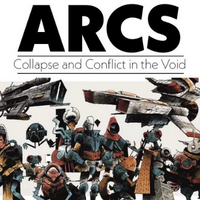 If you want to read more about one of the most hotly anticipated games of the year, check out our interview with Cole Wehrle on ARCS! A new game from the designer of Root and Oath, and we've got all you need to know.
To infinity and beyond
Join us in person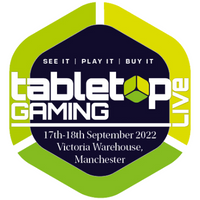 We can't wait for Tabletop Gaming Live 2022! An epic weekend in Manchester full of board games, card games, roleplaying games, wargames and more, with amazing exhibitors, great games, and an opportunity to game together in person.
See you there!
Treat Yourself!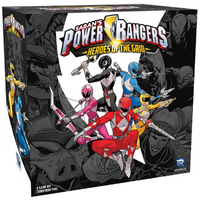 Have you visited our game store? We have everything from mystery boxes, to games and accessories – including the above Power Rangers: Heroes of the Grid, with a great discount! Head over to find your new favourite game.
Visit the Game Store
Sometimes we may include links to online retailers, from which we might receive a commission if you make a purchase. Affiliate links do not influence editorial coverage and will only be used when covering relevant products
Content continues after advertisement