Aqualin - £18.50
An oceanic tile laying game that is garnering rave reviews.



How To Play Aqualin

---
My City - £34
Spiel des Jahres nominated legacy game by Reiner Knizia.

How To Play My City


Review by Shut Up & Sit Down


Interview with Dr. Reiner Knizia

---
The Lost Words - £13.50
Based on the best-selling, award winning book of the same name. A new card game.

How The Lost Words transitioned from a book to a card game to an online game

---
Dimension - £34
A fast paced, innovative puzzle game that takes place in three dimensions with 60 colourful spheres.

---
Ingenious - £28
In Ingenious you gain points for the number of matching coloured symbols on your board. Beware though, you only win if you have the highest score in your lowest scoring colour – how Ingenious!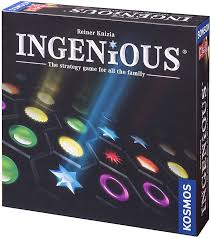 Ingenious Extreme - £20
A more challenging version of Ingenious.

---
Targi - £18 + Expansion - £18.50
One of our best selling series. A vicious 2 player game that will have you returning again and again.



Review of Targi