27 May 2020
|
Yes, it turns out it's Wednesday
It's been an interesting week for Kickstarter's this week, with many being funded quickly. To balance it out, we've got one that'll launch today and looks great, so there's plenty of time to be an early backer in this lot.
Escape: Roll & Write
Escape: The Curse of the Temple is a fun and action-packed game, and released this week to Kickstarter has been a Roll and Write version of it. Keeping the same speed and energy, you'll need to escape within ten minutes. It's a game for 2-4 players, with different difficulty levels available.
You also have the option to buy reprints of its previously popular games, including the Big Box version of Escape: The Curse of the Temple.
Current Status: Funded
Pledge to game: $20 (about £17)
Kickstarter Ends On: Monday June 1st 2020.
If you missed your calling as an adventurous archaeologist, you can still scratch the itch by backing this one on Kickstarter
Content continues after advertisements
Littlebox RPGs
These are small RPG's – no prep required, where you can just pop open the box and begin playing. The first of the two on offer gets you Villagesong a game of leadership and change, and the second is Our Mundane Supernatural Life, a story of a normal life but with a magical norm. The games are one-shot games, which they say will have impactful play within a few hours. You can also grab some free versions over on their website if you want to check it out first.
Current Status: Funded
Pledge to game: AUS $38 (approximately £21) for one of the games
Kickstarter Ends On: Tuesday June 9th 2020
You can dive right into these games on Kickstarter
The Emerald Flame
The Emerald Flame is a game by PostCurious, who previously gave us Tales of Ord. In this game, you'll have been commissioned by a mysterious organisation to embark on a quest. Of course, quests are never simple, and you'll have to solve a range of puzzles to be successful. It's over three episodes, and will take around 2-3 hours per chapter.
Current Status: 0% Funded, as it has just been launched!
Pledge to game: $74 (approximately £67)
Kickstarter Ends On: June 26th 2020
Satisfy your curiosity with this one over on Kickstarter
Kemet: Blood and Sand
We've been excited about this one for a while, and we're not the only ones as this was funded in less than 15 minutes. This game lets you rediscover Kemet's universe, with streamlined and upgraded gameplay from the original 2012 release. You're an Egyptian God looking to stamp your dominance on the land – but you'll need deep strategic planning and swift tactics to be successful.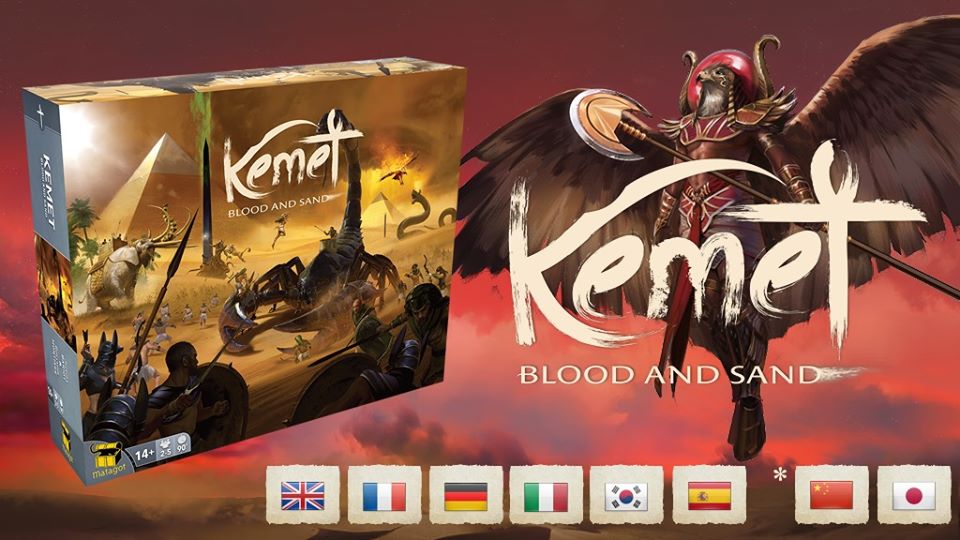 Current Status: Funded
Pledge to game: €69 (about £62)
Kickstarter Ends On: June 16th 2020
Channel your inner god with Kemet: Blood and Sand
Sugar Heist
It's hard not to look at this game- the artwork is vivid and the promises great, and you may recognise youtuber It's Alex Clark as the creator. This is a game of "a candy stealing card game and a pint sized brawl". You'll collect, trade, and steal candy cards. Fully funded in 40 minutes it looks to be great fun,
Current Status: Funded
Pledge to game: $20 (approximately £17)
Kickstarter Ends On: June 26th 2020
Indulge that sweet tooth by backing Sugar Heist
---
Usually buy Tabletop Gaming in the shops? Don't worry, you can get copies of the magazine direct from us, with free UK delivery
You can buy the latest issue of Tabletop Gaming here, with free UK postage.
If you've missed an issue, don't fret, you can pick up a back issue here.
Get a digital issue, or digital subscription from pocketmags, or through our app, on your Apple device, or Android.
Wargamers can also take advantage of these subscription and delivery options, with Miniature Wargames back issues delivered to your door, or a digital issue or subscription
Content continues after advertisement