07 January 2021
|
And it's only just begun!
Mantic Games may be sailing full steam ahead with the release of their Armada set in November of 2020, but they're set to sail even further into 2021 across all of their games, announced in a series of blogs across the Christmas period.
For Armada, a restock of the two player set will be available from February, after having sold out of what was anticipated to be three months worth of stock within a week. You can pre-order your copy if you missed out on the first wave by heading to their website here. There are also now MDF ship trays available.
And if that wasn't enough, you can now also pre-order the Dwarf Fleet, and you can even pre-order a Getting Started Dwarf Set for release on Janaury 25th.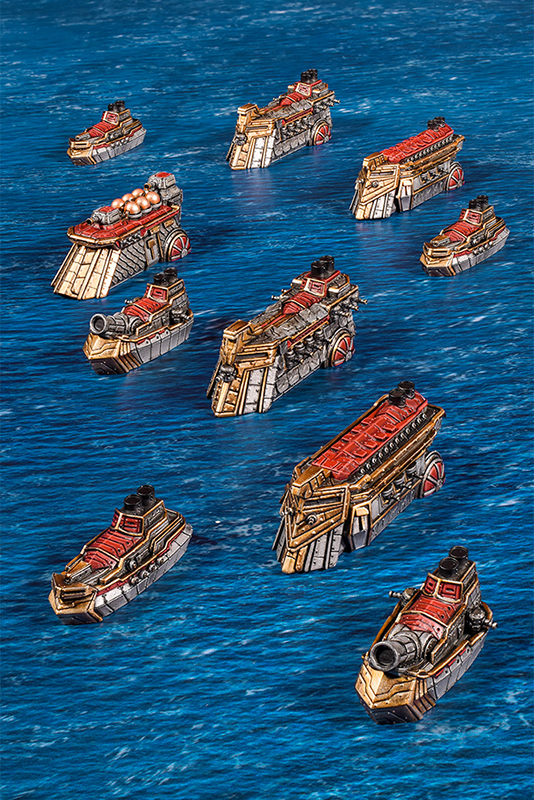 In addition, it confirmed early 2021 would be "expanding the four launch fleets (Basileans, orcs, dwarfs and Empire of Dust) with new XL ships. If you thought the large ships were big, you ain't seen nothin' yet!"
In the ever-popular Kings of War and Vanguard, comes Ratkin, with the official launch of the Ratkin Army due in Q1 of 2021. It'll include core troops, monsters, war engines, heroes and more, with a release for almost every single unit entry (from Twitch Keenear to Night Terror, to Hackpaw to Swarm-crier and more). This includes the Demonspan, for which it released a picture - plus some new models for the Clawshots, shown below.
Content continues after advertisements
As for Dreadball, you can expect a brand new supplement called The Magnetar Circuit, which will offer four new arenas, new support specialists, new historic matches, and an errata for previous teams.
In the Warpath universe, there's an update to the two player set to include a digital version of the rulebook, free physical copy of Escalation, and free digital copy of escalation. There's also new minis, of which we can't help but be impressed by the Artificers shown below.
There'll also be new Mini Command Protocols that will introduce the Ratkin models from Kings of War (as shown above) into Deadzone, plus a boost to Mazon Labs with cyborgs, work taking place on tightening the rules for Firefight and how these transition from Deadzone to Firefight, plus a spin-off - Arena Wars, a DreadBall spin-off focussed on arena-based, gladiatorial combat.
Finally, Hellboy: The Board Game, developed by Needy Cat Games, now offers four new experiences within it: The Storm and the Fury (facing Nimue in her dragon form), Hell on Earth, Pandemonium, and End of Days (inspired by the B.P.R.D graphic novels).
You can read the full blogs over on their site, where it's fair to say it's going to be a busy year for Mantic Games.
Content continues after advertisement