24 July 2022
|
Get your hands on the newest releases all in one place
The hit gaming convention run by the teams behind Tabletop Gaming and Miniature Wargames magazines is now less than 60 days away, and there will be 100+ games to play when you get there.

The show, running for two days over the weekend of the 17th-18th September 2022, brings together gamers from all across the country – for the first time in Manchester.

The show is taking place at Victoria Warehouse, Manchester, in the historic Cotton Sheds – offering ample space for the 5000+ expected hobbyists and 100+ confirmed traders, publishers and designers.

Tabletop Gaming's inaugural Manchester show is sponsored by local hobby titans Steamforged Games, who will be demoing Bardsung and showing off upcoming titles. Fanboy 3, who have been at the heart of the Manchester Gaming scene for years, will be showing off some of the biggest publishers from the US. They are joined by Manchester indie legend Hall or Nothing – who will be showing off new titles like the historical battler 1815: Scum of the Earth, and Manchester's biggest gaming group Tabletop Manchester.

New games at the show include: Bardsung (Steamforged Games), Amelia's Secret (Hachette Board Games UK), Star Wars Villainous: Power of the Dark Side (Ravensburger), the new edition of Kingmaker, Cartaventura Caravans (BLAM!) plus many more.

With hands on games demos and events happening all weekend at stands Tabletop Gaming Live provides a huge weekend of gaming where you can get stuck into the hobby like you never have before.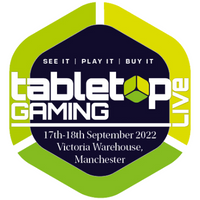 Roll up your sleeves and get your hands dirty with our workshops – learn how to make your first game with James Wallis (The Extraordinary Adventures of Baron Munchausen), create an RPG in an afternoon with Chris McDowall (Into The Odd Remastered) or make your own miniature with Kit-bashing YouTube star Bill Making Stuff.

There's less than 100 days to go to get your game on in Manchester, use the button below to buy tickets and stay up to date with the latest news.
Content continues after advertisements
Watch our show preview below: